I (Amenthysto), found out a few money-making tips - I will add more if I find them useful.
1)
Crafting - Uncut gems.
Items: Chisel, at least 10k - 20k coins, and any amount of spaces you want (but obviously
NOT
below 15 spaces).
(A typical player who is crafting and making money out of dragonstones)
Begin at the house where Bob is. Remember to turn on Run mode if you want to do things faster.
Recommended: Start off at Uncut Sapphires, even if you have a higher level, because you may not have much money. Otherwise, you may start off at the other higher-level uncut gems.
If you are an expert, you can speed-cut/speed-craft the gems.
Whilist crafting/cutting, run towards the Shopkeeper (where you can sell your items), and once you are done, sell them off. The crafted amulets (after you cut the gems) make a very good profit.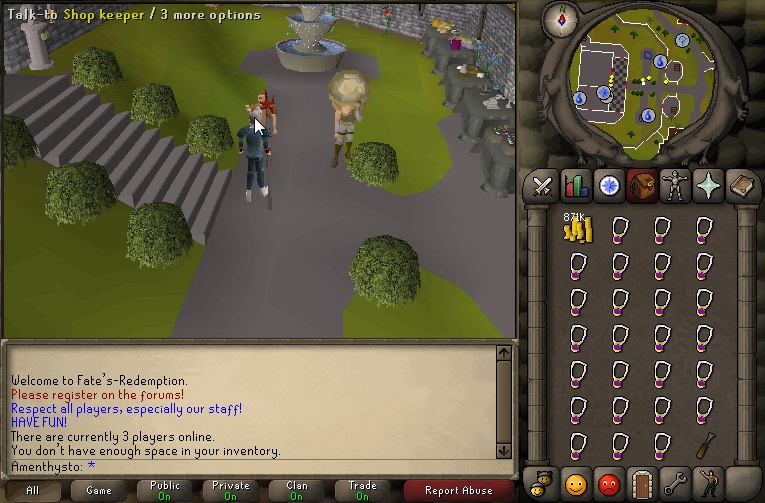 A player near the shopkeer, ready to sell his Amulets of Glory he had made.
This method is very good and I prefer it more than others.
2)
Mining/Smithing - Forging (Making, to be precise)
This method is a bit more of waiting and clicking.
Items: Pickaxe, Hammer, and spaces you need (
which I don't recommend you have 10 and below spaces
)
A player mining iron, thinking of making steel bars out of iron ores (need not bring coal for steel bars)
Start off at the Mining area (On the normal spellbook, go over the Skills Teleports and choose Mining). Mine copper, tin, iron, gold, silver...etc...
After you got your ores, teleport to the Smithing area (Skills Teleports), and use the furnace, and choose a bar (Bronze, Iron, etc....)
Note: One click on the bar is enough, it is automatic.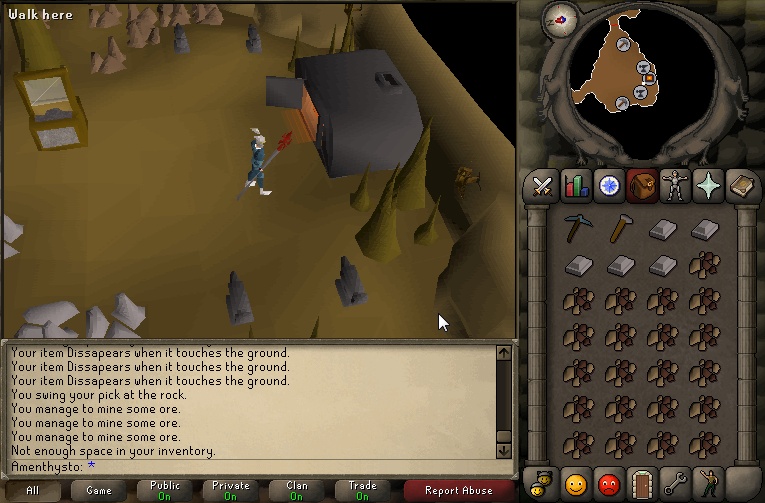 Smelting the iron ores into steel bars.
Then smith. Note that you should choose 'Make 5/10' to make 5 at a time.
Finally, teleport back home and sell your items.
3)
Woodcutting/Fletching - Making arrow shafts
This method takes a longer time and you need to click a lot.
Items: Any axe/hatchet, knife and any amount of spaces you want to have.
Start off at the Woodcutting Area (the easiest way is the Skills Teleports).
Chop a tree and collect logs (of any kind, even if it is oak or willow...).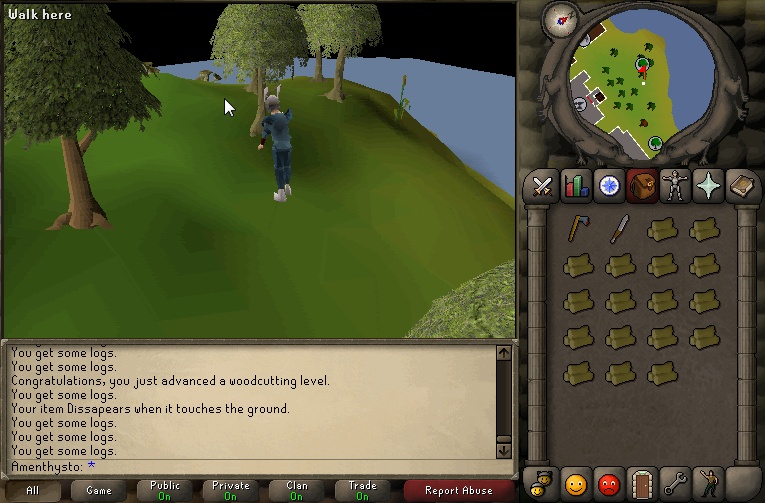 A player chopping a willow tree for willow logs.
Use your knife and fletch your logs into arrow shafts (please click quickly if you want to do it fast)
Fletching the willow logs into 15 arrow shafts each.
After that, sell off at the Home shopkeeper, 10 by 10.
4)
Combat - Skeletons in the Taverley Dungeon
Items: Armour and weapons/Runes/Arrows, food (optional if you are weak), spaces for loot.
Teleport to the Taverley Dungeon by using the Monster Teleport on the spellbook.
Then, fight the level 22 skeletons for the good loots.
Drops: 2 Noted Uncut emeralds, Adamant kiteshield, rune spear, 50 iron arrows, 100 mithril arrows, 65 coins..... (Maybe more)
After you got a full inventory, sell them off at the Shopkeeper at Home.
This method is very useful. It is also useful for training combat.
More coming soon!